Hindsight Sportfishing Contact Information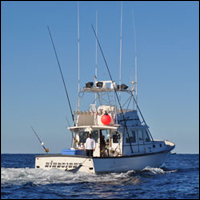 The crew of the Hindsight appreciates your interest in planning the trip of a lifetime with truely the best of the best. This is not idle boasting, this is documented catch rates, fish on deck, and many happy customers.
Whether you are looking fo a day on Cape Cod Bay fishing for stiped bass and bluefish, a trip offshore trolling for bluefin tuna, or a true adventure chasing giant bluefin tuna, Capt. Brett Wilson and the crew of the Hindsight can make your dream trip a reality.
Hindsight Sportfishing is based out of Rock Harbor, in Orleans, on Cape Cod, MA. If you are looking to fish bass and bluefish out of Rock Harbor, pleases take a look at our 2023 Schedule page. Being a tidal harbor, the departure times change day to day for trips leaving Rock Harbor.
If you are looking to go tuna fishing, especially giant bluefin tuna fishing, you have to start looking at dates now. Tuna season starts the 1st of June, and the available dates fill up in a hurry.

Please fill out and submit the form below, and you will be contacted as soon as possible. Thank you.